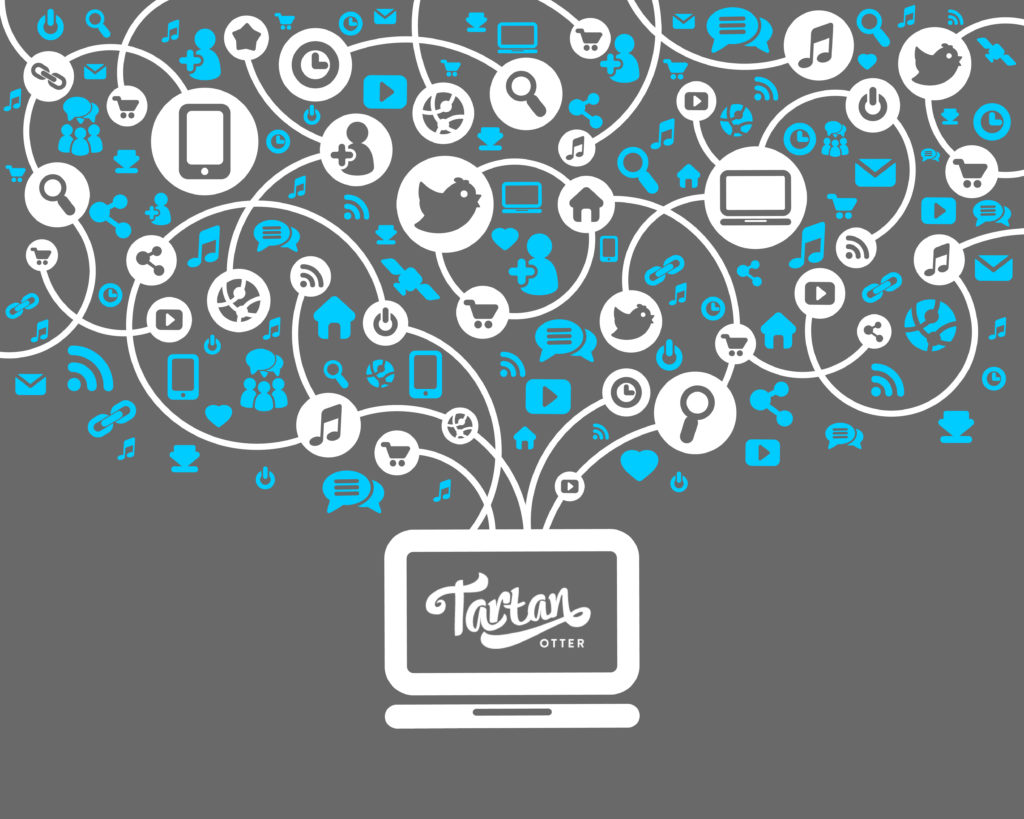 Social Media Strategy for Small Businesses
Regardless of the size of your business, planning is a vital element for success. It's tempting to put marketing on the back burner when you start up a small business because (understandably!) you're excited about getting out there and selling your product or service. Things like social media strategies seem a little overkill at this point right? Wrong. The success of a start-up business will rely heavily on a strong and well planned marketing strategy. With that in mind, we've put together a few tips on constructing a social media marketing strategy for a small business.
Where are you right now?
The first (and most obvious!) place to start is at the beginning. Have you set up your social media platforms already? If so, what are you doing on it? Are you active and consistent? What platforms do you have and what are your analytics telling you? Working out exactly where you are at the beginning will allow you see how far you've come after a set amount of time (setting SMART objectives will help this – see Being SMART below). There are a myriad of social media platforms and it is essential that you choose your platforms wisely, choosing too many will be a waste of time and energy. Think about what you are selling or providing and your customer type – where do they spend most of their time? Where are you most likely to reach them. Many small businesses start out with Facebook, Twitter, Instagram and LinkedIn accounts and often (depending on the product/service that you're providing) this can be a good way to start getting yourself established.
Many people fall into the trap of thinking that paid advertising is essential; yes it can help but you need a good, strong strategy initially to be able to ensure that this will work correctly.
If you work hard on social media, organic growth will come. It's sounds a little textbook but you get exactly out of social media what you put in, if you dedicate the time and effort, you will reap the benefits, if you interact and engage, you will grow your followers, if you post relevant and interesting content, your brand will become more respected and looked to by potential clients and customers.
"You get exactly out of social media what you put in, if you dedicate the time and effort, you will reap the benefits, if you interact and engage, you will grow your followers."
Detective Work
As we've discussed already, it's essential learn about your target audience – who are they and what do they look like (not literally!!)? Which platforms do they use and what are their trend habits like? This information is vital when it comes to correctly targeting your interactions.
This data is invaluable for you as a business when it comes to marketing because it allows you to become focused and direct towards those that matter, this becomes even more important when you start to pay for advertising because without it, you may as well just throw your money out of the window!
So, draw a picture of your target demographic, their age, their location, their lifestyle and income, their pain points, the reasons why your business can solve their problem and where they tend to hang out on social media.
Your Competition
It's time to check out your competition!
If you don't know who they are, then you will need to find them. If you do know, you need to get your snooping hat on. What are they doing on their social media pages? Find out which platforms they spend their time on, look at their content, look at when they are posting, the types of posts and also the engagement. They could be doing a lot but unless the engagement is there, it's a little pointless use this for building your own strategy!
The buzzword here is social listening. Watching what your competitors do (and how customers interact) is a quick way to see what works and what doesn't, if you see tumble weed for specific campaigns, it is possibly not the best way to motivate your target customers to action. If you see a flurry of activity, see what they are doing and saying to create interest.
When creating your own content and style, there's no need to reinvent the wheel, but you need to follow this with your own voice and branding, not blatant copycatting. It's important that your brand has it's own identity, you need a reason to stand out from the crowd.
Being SMART
It is now time to decide what you actually hope to achieve, and these goals should align with the rest of your business objectives. If you haven't met SMART before here is a quick guide. Every goal you set should be:
Specific
Do's – Set real numbers with real deadlines. "I want to reach 3000 followers by March 2020"
Don'ts – Don't be vague! i.e. "I want more followers"
Measurable
Do's – Make sure your goal is trackable. "Let's put a document together to track how we are doing"
Don'ts – Don't hide behind buzzwords like "brand engagement" or "social influence"! Be honest with how you are doing and progressing.
Attainable
Do's – Work towards a goals that are challenging but possible.
Don'ts – Don't try to conquer the world in one day!
Relevant
Do's – Ask yourself the question if your goals are worthwhile and relevant to your business? E.g. Saying you just want 3000 more followers is great but if they aren't relevant to your business – is it worthwhile?
Don'ts – Don't feel like you have to follow the norms with SMART objectives – make sure you outline goals that mean something to your business and that fit in with both your long term and immediate plans.
Time
Do's – Give yourself a deadline – be specific about when the job will be complete.
Don'ts – Don't keep pushing towards your goals claiming that you "might hit it at some point"
With SMART goals you will be able to quickly audit your social media statistics each month and see what is working and what is not.
Brand Your Platform
It is key that before you set out with your super fresh social media strategy that you tidy up your platforms and make some branding decisions.
All platforms should be easily identifiable as your brand and business. Your logos and colours should appear uniformed across each platform. Create artwork and visuals in the right dimensions – there is nothing more unprofessional than chopped off corners or missing words because they were the wrong size in the first place.
Curate Your Content
Over the course of a week, you should provide a selection of posts, these should be varied and not just all about promoting your product or service.
As well as raising the profile of what you have to offer you are also looking to place yourself as an industry expert, you do this by sharing relevant news, helpful information and other posts as well as your own advertising.
2:5 is an excellent tool for planning, two direct sale posts for every five information/opinion/help and social posts. If you are planning to make graphics or video (video is hugely popular on social media) keep your brand identifiable in everything that you do.
Posting Tools
Planning and posting in advance is significantly time saving and saves you chasing your tail or forgetting about social media. Using Hootsuite or Tweetdeck (other social media posting tools are available!) to schedule a week or months worth of posts in one sitting, so that they post at relevant times and dates, leaves your whole week/month free to focus on other things! However, it is still advisable to keep a eye on what is going on in real time, and sometime you will earn points by adding very relevant news as it happens, so don't be afraid to make the odd extra post.
Paid Advertising
As promised, we told you we'd mention it at some point!
In a small business paid advertising on the major platforms is only worth it when you know you are likely to reach your audience. Your competitor analysis and your detective work on your customers should help you decide where to pay and post but don't feel like you have to use them all, as some will not be value for money or ROI making it costly and a big fat waste of your time. Your paid adverts should also take advantage of the demographic data that you have collected, each platform allows you to select your audience based on the criteria that is key to reaching your customers.
Need A Hand?
Don't have the time to sort your own social media strategies or planning?
Get in touch with The Otter at kate@tartanotter.com