Tartan Otter are proud to be supporting X-entricity Theatre. X-entricity (@X_Entricity) are a youth theatre programme headed up by Steve Liddle, Jane Hewson & Sarah-Jane Matthews.
Based in Hereford, they have been supporting and nurturing young, fresh talent for19 years and they are going from strength to strength. Having worked with over 1000 local performers now and have staged over 30 productions in their time. These productions have grown in grandeur and reach since 2013 when they outgrew their original home of the Laruperz Centre in Ross-On-Wye and moved their performances to The Courtyard Theatre (@CourtyardArts) in Hereford.
Their main purpose is to offer free of charge training and development for triple-threat performers, so they are able to go on and fulfil their dreams in the Arts. Many of their cast members have gone on to study at some of the most prestigious Drama schools in the Country and have further gone on to very successful careers on Stage, Screen and the Music Industry; Olly Alexander from Years and Years and It's a Sin, being one of them!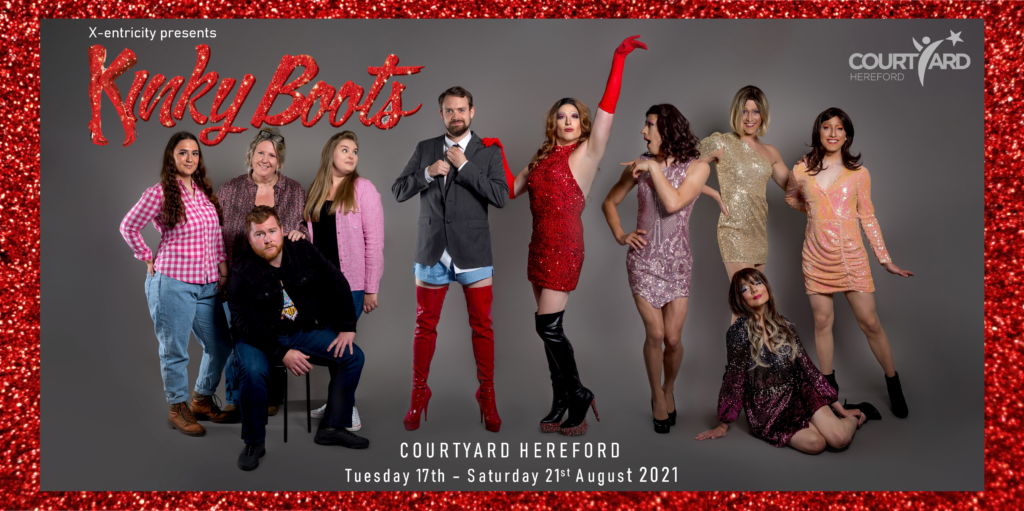 X-entricity have graced our local stages with some of the most iconic musicals, such as; Les Miserables, Grease, Priscilla Queen of the Desert, Guys and Dolls, West Side Story and many more!
The latest show to hit the stage is Kinky Boots, the true story of Charlie Price, who inherits a struggling shoe factory from his father. Charlie teams up with cabaret performer and drag queen Lola to produce a line of high heeled boots to save the business, in the process, Charlie and Lola discover they are not so different after all. With glitz, glamour and fantastic music by Cyndi Lauper – what's not to love!? Kinky Boots is on at The Courtyard Theatre in Hereford from Tuesday 17th August to Saturday 21st August 2021 with limited tickets remaining! Snap yours up now! https://www.courtyard.org.uk/events/x-entricity-present-kinky-boots/